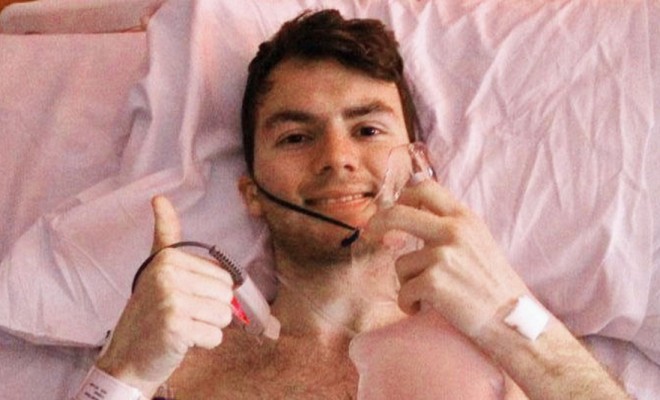 Stephen Sutton: The uplifting teenager who inspired millions
|
I STRUGGLED to fight back tears as I read the last ever post of Stephen Sutton this week.
And I'm sure the tragic passing of the teenager — who started the world-followed Stephen's Story about his battle with cancer — broke the hearts of many.
Stephen, who was just 19, faced a complete nightmare — a terrifying, gruelling disease and being told that his life could end at any moment.
And yet throughout his entire journey, documented on Facebook to millions of people, the remarkable teenage remained positive the entire time.
At an age where most people look forward to partying and perhaps meeting their first love, how inspiring to see a young man raise millions of pounds for charity, all the while staring death in the face.
People rarely talk about death, it is something we will all face one day, yet very few of us engage in the subject unless it affects us personally.
However this is something Stephen has changed. During his battle, he documented the possibility of his impending death, even joking about the full thing being 'very inconvenient' in his final days.
It is the truly brave that normally make us reconsider some the silly things we all too often worry, complain about and criticise.
When Stephen was diagnosed with incurable bowel cancer four years ago, he vowed to raise £10,000 for the Teenage Cancer Trust.
This further proves what a selfless individual he was. Instead of wallowing in self pity, he made the most of his situation and did what he could to help others.
It was revealed that, during his fundraising, he managed to raise more than £3 million for the charity.
And if that's not inspiring enough, Stephen is a shining example of the fact that even in the worst times, it is important to remain optimistic.
In a heartbreaking post on his Facebook page Stephen's Story, on May 8, just days before his untimely death, Stephen told his followers:
"I was first diagnosed with bowel cancer in September 2010. I then have had periods of remission and relapse, before doctors eventually described my disease as incurable in November 2012. Throughout this time I have underwent all manner of treatments (surgery, chemotherapy, radiotherapy, etc) that have helped treat and prolong my life.
"The spread of my disease since has been steady and quite unique; I actually I see myself as very fortunate — despite being incurable for a while I have had a sustained period of very good health where I was able to go out and enjoy things thoroughly, which I did.
"Recently, more and more things have started going wrong with my body and it's clear we are now facing a new stage of the 'journey'.
"Every cancer journey is different, but I've always thought an advantage of mine was that it should be pretty predictable."
He concluded: "Ultimately, there is no miracle cure for me. I am potentially the most positive and optimistic person in the world, but we have to be realistic with what we are up against. My disease is very advanced and will get me eventually, but I will try my damn hardest to be here as long as possible. I haven't died yet, the journey continues, so I guess I'm needed a bit longer."
In a statement after news of Stephen's death was announced, the Teenage Cancer Trust paid a tribute to Stephen's lagacy over how grateful they were.
"We are humbled and hugely grateful for what Stephen achieved and continues to achieve for us," a spokesman said.
"The thoughts of everyone here at Teenage Cancer Trust are with Stephen's family and friends."
The Teenage Cancer Trust will share details of a legacy plan for Stephen Sutton in the coming weeks.
If you want to donate and read more about Stephen's Story, go to his Just Giving page. 
It might just inspire you to start living in the moment, and stop worrying about the future.